DATABEX


Searchable Online Database
The Next Generation of Project Databases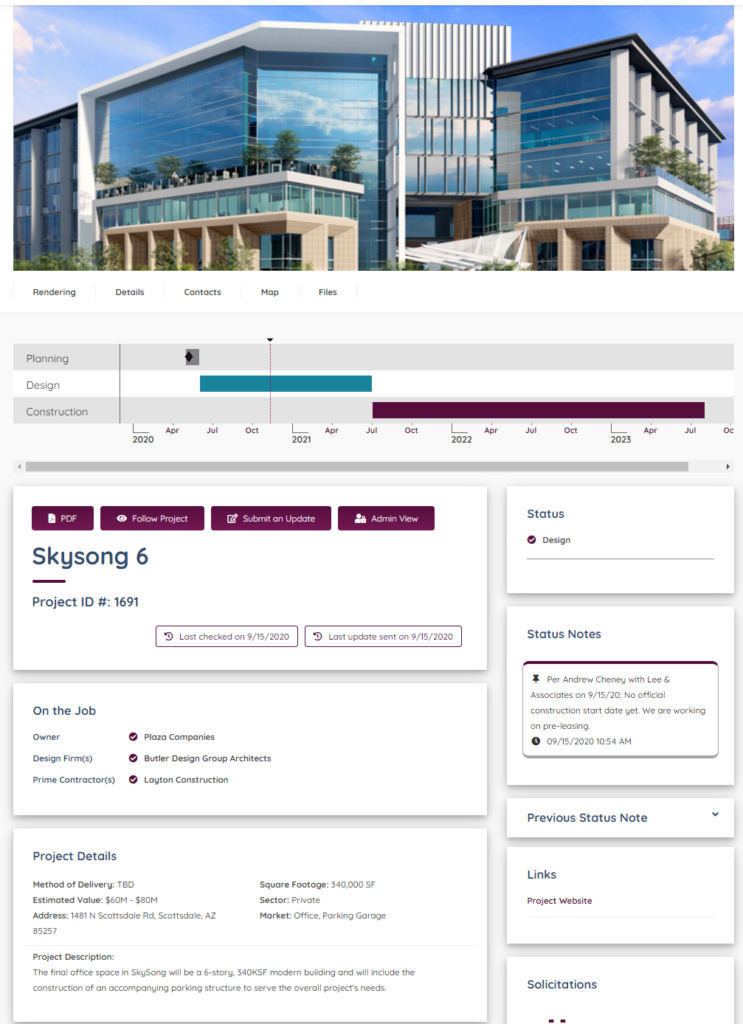 DATABEX is an online database tool for anyone involved in Arizona Architecture, Engineering & Construction who needs to know about future infrastructure and commercial real estate development projects. DATABEX consists of major projects ($5M+ total construction costs) that our research team finds through various sources very early in the planning and design process. The team adds all the relevant data, documents and contact information for the owner, design firm and general contractor. Then the team diligently follows up on the projects as they move forward, notifying users of changes as they happen.
Our local research teams find projects earlier with our top secret methods, and our diligence in tracking and follow up keeps more than 3,000 Arizona active projects up to date with the latest information.
Search for what you actually need
You'll find the right projects with complete details earlier. You'll have access to contact information for the right point of contact at the Owner, Prime Design Firm, and Prime General Contractor. You'll see who is active in your market so when you do marketing or sales outreach activities, they hit the mark. You'll become more efficient with your time and have access to better data.
DATABEX is an online tool that enables users to search through the most relevant information, from thousands of contacts to thousands of AZ public and private projects with a construction value of $5M and above.
Every owner, developer, design firm and general contractor, listed on one or more projects, has a company profile listing their offices, key contacts and any active or completed projects they worked on.
Need to talk to a person about a project? We have an app for that! We include names and contact information for all key personnel working on a project for you to reach out to. All contacts are CRM compatible as well.
From private project sub-bid requests to public requests for qualifications, we add vital information to the project with solicitations, contacts and include plans and specs as well as other documentation.
See how all projects are distributed over the state of Arizona at once or navigate to a specific location on a map to see all the active projects happening in the area.
Learn the power of a relational database with the ability to download information and analyze market sectors and active players in the markets. 
Clients' Seal of Approval
Mike Hare
BorderCorp & Marvel Masonry Supply
The database is what we would consider an essential tool for our team. A sizable chunk of my lead generation is driven through project research. Since we use multiple tools for our digging, we clearly see the difference BEX makes vs other planroom/bid board/construction data services. The best, and often most up to date, info is on BEX.
Anthony Haverkamp
FCI Constructors, Inc
The database (databex) has been a great tool that we have been able to use as an asset to find new leads and contacts for certain projects, removing barriers that were previously unknown and saving time chasing people down.
Sally Blaser
Focal Point Security
Using the BEX database, I can widen or narrow my search for projects most likely to need our services. BEX adds new projects on a daily basis making for a steady flow of new business leads. I can't begin to tell you how much time BEX saves, so I can spend more time on the phone and less time on research or driving to construction sites or GC offices. It is much easier to get connected to the right person and they are usually more receptive, when they realize how knowledgeable I am about the project in question…an education I get from BEX magazine and database!
Amber Glispie, Esq
Pono Construction
Utilizing the DATABEX has enabled Pono to discover leads and laser focus our efforts more efficiently. BEX is a fountain of knowledge for the construction industry that we have come to rely upon in order to grow our business.
Chris Creasey
Tutor Perini
The BEX Database (DATABEX) has become an invaluable tool for my daily pursuit of new work in the Phoenix area. With the most current data available, it keeps me updated on the projects that I am chasing. I love receiving the alerts when that data is updated - what a huge benefit! Many people are shocked at how much info I know about their project when I call them, and this is all info I gathered from the database.
Search for what you
actually
need