Bringing opportunities
to you
AZBEX is a resource for firms in the design and construction industries in Arizona that helps them efficiently find business opportunities. We are making business development easier by bringing the opportunities to our subscribers through many different lead sources. We do the research, the data entry, the analytics and the investigating to get current, factual information on what's happening in our industry so you don't have to spend all your time doing it yourself.
This tool comes in the form of a 60-70 page PDF emailed twice a week to our paid subscribers. Each issue contains hundreds of open project solicitations, articles on all types of industry information including: projects in planning and development, legislative issues, trends, budgets and local news. AZBEX also covers industry events, CRE transactions, people on the move, bid results & project awards and permits.
Pre-Bid Project information
We scour through documents, send a ton of emails and phone calls and work our industry network to find development information for projects early in the planning stages.
Bid Results & Project Awards
We publish all bid results, list of firms submitting, and contract awards for public and private project opportunities and even color code it to match the market sectors from the projects bidding section.
In addition to writing our own articles on projects and trends in the industry, we also find all the other media outlets with relevant information and compile them into one location.
Commercial Real Estate Transactions
Commercial real estate transactions are an early lead for tenant improvements and are a great way to track companies coming into the state.
Staying up on projects moving through the construction phase helps keep our readers well informed, and as the opportunity converts from a construction contract to a maintenance project, this section is incredibly helpful.
It's well known that professional relationships play a huge role in landing projects. Keeping up with all the professionals in the industry just got a little easier with this weekly section. 
Commercial building permits valued at $500K+ help track those harder-to-find TIs and private development projects.
We have great coverage of both the public sector and the private sector and we create easy navigation to move between one section to another. 
Open Project Solicitations
From public design RFQs to private development sub-bid requests, we track everything on the street so you won't miss anything.
AZBEX reaches 4,000 individuals at nearly 500 individual firms.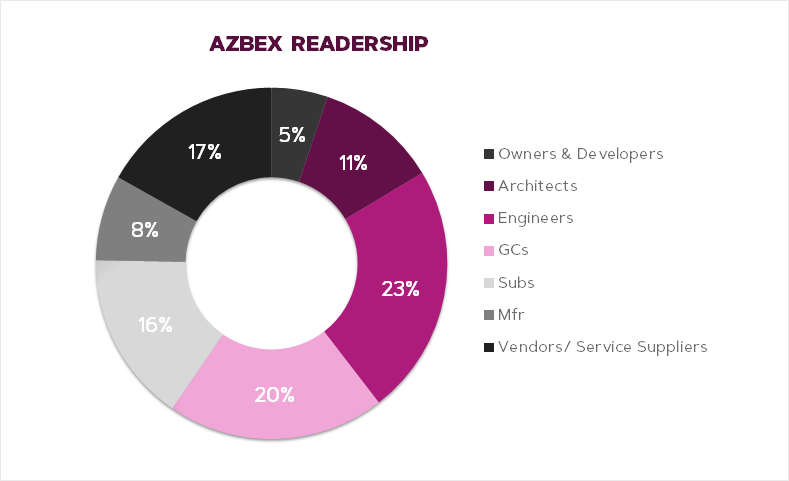 AZBEX constantly strives to get further upstream to provide the most value to the subscription base from newsletter content to breaking news at BEX events. I have taken AZBEX with me each time I've changed companies.
Kevin Woudenberg
Alpha Geotechnical & Materials, Inc.
AZBEX gives solid insight and detail to current and future projects statewide. It has become a weekly tool to help me do my job!
Keyvan Ghahreman
Willmeng Construction Inc.
AZBEX provides such a valuable service to us in the A/E/C industry, and we're grateful for it!  I still maintain that AZBEX is my one MUST READ publication.
Stephanie Munoz
Dibble Engineering
We/I love your publication and gain so much from reading each and every publication. 
I really enjoy your content and information. You are my go-to publication each week.
Michael Benjamin
Rain for Rent
Here at Rain For Rent we appreciate the quick and easy tool of your magazine to source work.
Claire Furney
Caliente Construction
It is the best resource for our industry.
Jennifer Slocum
Mark Taylor Inc.
Just have to compliment you again…your publication is AMAZING. It's our best Arizona procurement tool. Thank you!
Randy Eskelson
Schuff Steel
AZBEX is by far the best publication we receive regarding new projects in Arizona. Keep up the great work.